Custom Trophies, Medals & Plaques Maker Philippines
We provide a wide variety of Trophies, Medals & Plaques, customizable to your business organization's brands. There is a wide range of materials to choose from such as Glass, Wooden, Bronze, Silver, Gold, Metal or Brass, catering to your different requirements and needs.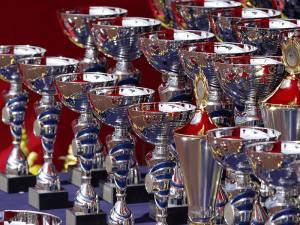 Plaques
Glass Plaques
Glass plaques are more than just beautiful decorations on your wall. They are reminders that a specific person or company was able to achieve something special. And that's exactly why the way they look, the materials they are made of, and their ability to stand the test of time matter.
There are very few things that are quite as elegant as glass plaques. Glass plaques are often saved for the most prestigious awards; the ones that entail deep dedication and fierce loyalty. The best glass plaques are able to convey these characteristics in just one glance.
Acrylic Plaques
When it comes to awards, make sure that they are made of top quality materials, and have great designs. This is especially true if your company is the one hosting the event. Well-made awards are better to look at, and will last for decades — which means a lot.
Sturdy yet gorgeous: these are the two defining characteristics of acrylic plaques. Essentially, they guarantee that the awards are going to look good and won't break easily for a long time. Not to mention that they also go well with hundreds of designs and styles.
Trophies
Metal Trophies
Metal trophies are more than just a symbol of victory or an achievement. They are also real-world proof of a person's commitment to their job and the honest effort they put in to earn accolades. Naturally, the trophy itself should be able to display the quality of work necessary to earn them.
What makes metal trophies unique is their professional look, and how they can blend into an office environment without effort. Once they are on the shelf, they will stay there as a symbol of the dedication your team gave to deserve them.
Wooden Trophies
The charm of wooden trophies comes from their traditional look, which has stood the test of time well. The earliest trophies were made of wood, and even in today's modern era, they are still one of the most elegant items you'll find in offices.
Wooden trophies are one of the strongest ways of giving recognition, and they are guaranteed to retain their appeal for decades. Regardless of current trends or technological advancements, wooden trophies will never look out of place.
Medals
Glass Medals
Nothing quite compares to glass medals when it comes to individual recognition, which is why they aren't given away so easily. Glass medals have superb visual qualities, impressive durability, and carry an aura of hard-earned success with them.
Having a glass medal often means that someone has accomplished something amazing. And just like the dedication they gave, the quality of the medals they receive should be the best as well.
Brass Medals
When talking about medals, brass medals are usually the first image to come to mind. The reason for this is that they are the preferred method of giving recognition by many, because of their timeless aesthetic appeal and their superior durability.
Brass medals can be used for several different situations, from sporting events to business-related awarding ceremonies. Regardless of this, having a well-made brass medal is proof that you're an achiever.
Check Out Our Custom Trophies, Medals & Plaques Philippines
Browse our Shop below to find the personalizable trophies, medals & plaques that best suit your business needs. If you can't find any personalizable trophies, medals & plaques that you prefer here, do contact us with a note and our sales specialist will be glad to help you source.
Other Corporate Giveaways/Gifts We Provide
Here's a list of other corporate giveaways or gifts that we supply, all customizable with your business branding/logos.
Can't Find The Trophies, Medals or Plaques That You Want To Personalize In Our Shop? Let Us Help You Source It.