How Do Exhibition Booth Designs Carry Your Brand Image?
Exhibition booths play a very important role in events that showcase your products like trade shows and conventions. Such events are excellent opportunities to expose what you offer to your target audience, promote your own brand identity, and possibly even generate leads and attract potential business partners.
But it isn't just the products themselves or the skill of the salesperson assigned to the booth that will carry your brand image. A large part of it, in fact, will depend on the booth itself—or to be more specific, how well the exhibition booth design is able to represent your business identity.
Your exhibition booth will be standing all throughout the duration of the trade show, while exposed to hundreds of people. This means that the people who directly interacted with you aren't the only ones who will remember your brand. This applies to the ones who happened to simply pass by or took a glimpse of your booth as well. In short, your exhibition booth design should be nothing short of impressive.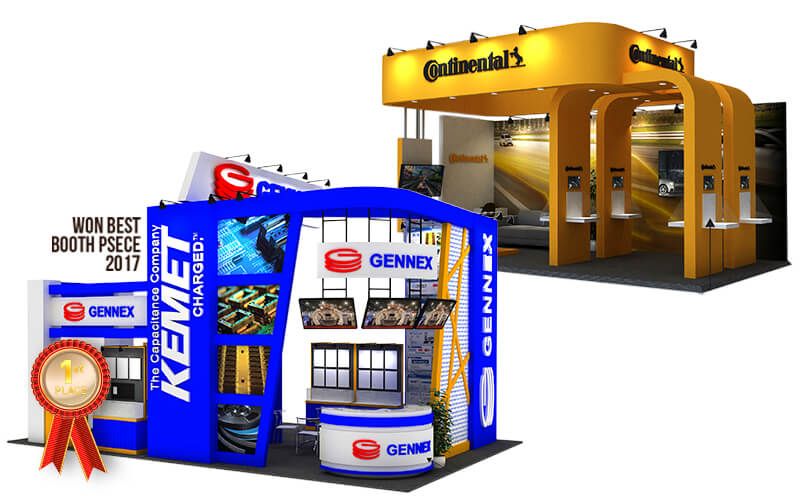 What are the factors to consider when making exhibition booth designs?
When designing exhibition booths for trade shows, the most important thing you should always remember is that it should be able to present your corporate image very accurately.
Decorate accordingly: When creating an exhibition booth design, try to aim for something that will immediately tell people who you are with just a look. For example, if you are selling media players and audio peripherals, it would make sense to decorate your booth with gigantic figures or structures of headphones or anything music-related.
Use company colors: Always use your company colors when designing exhibition booths, because they contribute to how people will remember your brand. This will also make it easier for people who know about you and are intending to find you among the sea of booths.
Utilize copies: Make sure to place important texts that briefly tell your company's story and what makes you unique in strategic places in your exhibition booth. This is a good way of making a connection with people, and helping them remember who you are.
Successfully incorporating these to your exhibition booth design will increase the likelihood of gaining attention and people engaging with you.
Create your exhibition booth design with us
We at Acton know how big of an opportunity a trade show is, especially because of how much it can boost your brand image. We believe that the key to winning customers are designs that both capture their attention effectively and resonate with your corporate identity.
If you need top-quality exhibition booth design services, don't hesitate to reach out to us. We're excited to help you. Talk to us.
Other Design Services We Provide
Our Competencies covers beyond Exhibition Booth Design to include these services
Talk To Us To Get Quick & Professional Exhibition Booth Design Quote!